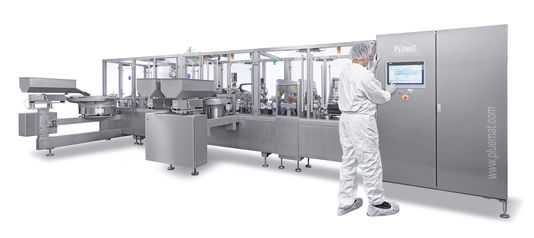 Form - Fill - Seal line for bags

Réf : FFS 991 | 992

|

Fabricant : Plümat

As a pioneer PLÜMAT integrated the Form Fill Seal technology in the production process of IV-bags, in 1996. The formed and sealed bags are made in one auto- matic cycle without any further steps. This process allows to control the whole system in a really simple way and also decreases the risk of contamination.
The PLÜMAT Form Fill Seal Line 991|992 stands out due to its reduced supply media consumption and small machine size at high quality output. The minimal need of cleanroom area in relation to output decreases the cleanroom invest significantly.
Características principales
| | |
| --- | --- |
| Output* | 2300 Bags/h | 4200 Bags/h |
| Bag material | Multi-layer film |
| Formats** | 100 ml | 250 ml | 500 ml | 1000 ml |
* FFS 991 | FFS 992 (500ml)
** more formats on demand
Especificaciones
| | | |
| --- | --- | --- |
|   | FFS 991 | FFS 992 |
| Power Supply | 230 V/400 V, 50 Hz, 3 Ph; appr. 18,0 kW | 230 V/400 V, 50 Hz, 3 Ph; appr. 22,0 kW |
| Power consumption | appr. 3,0 kWh | appr. 4,0 kWh |
| Compressed air | appr. 7 bar | appr. 7 bar |
| Compressed air consumption | appr. 1500 Nl/min | appr. 2200 Nl/min |
| Cooling water | n.n. | n.n. |
| Machine weight | appr. 3000 kg | appr. 5000 kg |
| Dimensions (L x W x H) | appr. 5431 x 2495 x 1950 mm | appr. 7145 x 3090 x 1950 mm |