GIVE & TECH is the agent of PLÜMAT for France, Belgium, Spain and Morocco.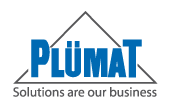 As a technology leader for the packaging of pharmaceutical solutions in flexible packaging made of polyolefin, especially when aseptic and sterile manufacturing conditions are required, PLÜMAT offers a complete range of equipment, from small stand-alone machines to fully automatic lines.
PLÜMAT also offers bag making machines with COLPITT high frequency welding technology.
PLÜMAT's in-house R&D center consolidates more than 40 years of experience in filling and sealing technologies, as well as bags production.
PLÜMAT develops new solutions, machines concepts and innovative packaging connectors, whether on its own or its customers' projects.
All of which are made in Germany.