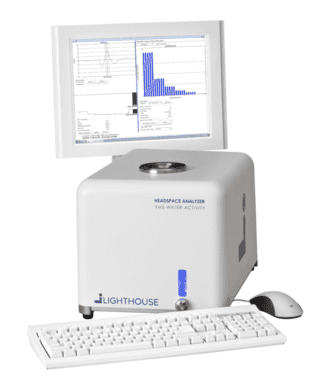 FMS-Water Activity Analyzer

Réf : FMS-Water Activity

|

Fabricant : Lighthouse Instruments

The FMS-Water Activity Analyzer is a non-destructive gas analyzer for making water activity measurements of solid dosage drug product samples.

This compact analyzer utilizes a patented laser absorption technique developed with funding from the Food and Drug Administration.

Light from a near-infrared laser is tuned to match an internal absorption frequency of the water vapor molecule and passed through a glass sample container in the headspace above the product. The amount of laser light absorbed is proportional to the water vapor concentration in the headspace which in turn can be directly related to the water activity of the pharmaceutical solid.

 

The non-destructive nature of the measurement method enables a broad range of moisture activity applications and off ers signifi cant advantages over traditional techniques.
Principales caractéristiques
 - Water activity determination of solid dosage and powder product
 - Real-time moisture exchange studies
 - Water vapor transmission rate studies
 - Replacement of Karl Fischer Titration (KFT), Loss On Drying (LOD) for lyo moisture determination
 - Rubber stopper drying studies
Spécifications
- Measurement range: 0 to 100% RH
- Measurement time: 5  seconds
- Temperature control Range : 19 to 45°C
- Sample container size: 1ml to 50 ml
- Dimensions: 292 x 305 x 405 mm
- Weight: 19.5 kg
- Power requirements: 110 - 240 VAC, 50/60Hz, 180W
- Interface: PC