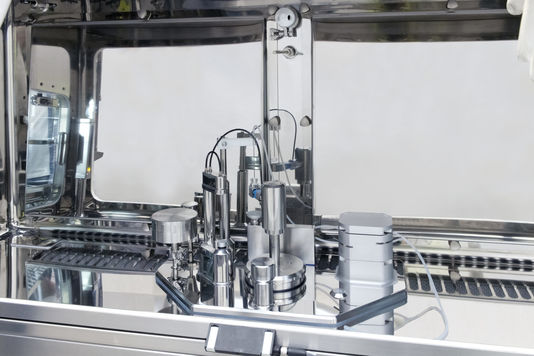 Automatic Filling and Capping Machine in Aseptic Conditions

Réf : AseptiFill

|

Fabricant : Tema Sinergie

AseptiFill is the Aseptic Filling and Capping Machine specifically designed for Pharma & Biotech companies, focused on small batch production of injectable products for pre-clinical and clinical trial studies.
- Filling Nozzle: Anti-foaming lifting movement
- Peristaltic Pump: Repeatable and homogeneous dispensing flow
- Weigh Cell: 100% real time weight check during filling process
- Robotic Vial Handling: Compatible with ISO 8362-1 vials (6R to 50R)
Principales caractéristiques
- Fully PLC controlled filling and capping machine
- cGMP Filling and Capping
- Volumetric filling with 100% weight check
- GAMP 5 compliant
- 21CFR Part 11 compliant
Spécifications
- All-in-one cGMP compliant filling and capping machine.
- Ease of integration in any aseptic isolator system manufactured by Tema Sinergie.
- Interlock system with integrated light barriers which interrupts the automatic process for operator safety.
- Batch filling report automatically generated at the end of the production phase.
- Manufacturing materials can be exposed to bio-decontamination processes by hydrogen peroxide in vapour phase.