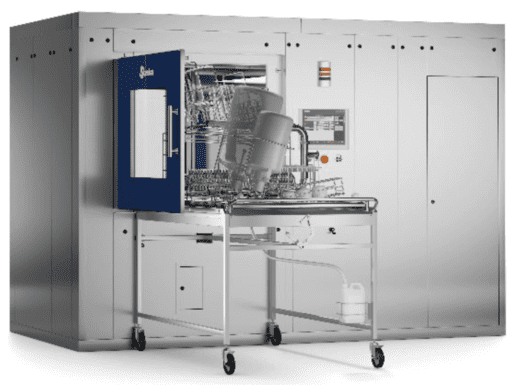 Pharma Grade Part Washer

Réf : DS Series

|

Fabricant : Steelco

Pharma Grade Parts Washers are engineered and utilized for throughput, efficiency and validatable cleaning and drying of various materials and components used in the Biotechnology and Pharmaceutical Manufacturing processes.

Steelco has a deep understanding of the specific cleaning and drying requirements of the equipment and components used in pharmaceutical production, including:
- Laboratory Glassware;
- Filling line components and tools;
- Tubing;
- TC fittings;
- Valve and pump bodies, filter housings;
- Reactor vessels and miscellaneous equipment;
- Bulk containers, tanks and carboys.

 
Principales caractéristiques
- From 230 litres / 8 cu.ft
- To 2.400 litres / 85 cu.ft
- Available in several chamber sizes, configurations and accessories to tailor each unit to exact requirements.
- Complete layout versatility (champer shape / left, right or shared technical area / hinged or sliding doors)
- Steelco designs, develops, manufactures and tests all its own wash cart racks in-house, ensuring that the quality of this critical process is carefully monitored. 
Spécifications
- Washing chamber made entirely in AISI 316L stainless steel with rounded corner with edges and seams ground flush. All surfaces and welding points are polished and passivated.
- No dead-legs or crevices present in the chamber or sump. The chamberis self-draining and self-cleaning.
- Multiple rotating sanitary washing arms made of AISI 316L stainless steel are located at the top and at the bottom of the chamber to provide full washing and drying coverage for the load as well as the chamber.
- The heating elements enable variable drying temperature control. The HEPA filter is placed in line at the end of the drying path before entering the chamber and rack.
- Manual or automatic water sampling installed in technical area or in alcove on fascia.
- Conductivity sensor and TOC analyser for final rinse phase can be installed if required.
- User friendly control systems for SIEMENS / ALLEN - BRADLEYdeveloped according to the latest ISPE GAMP© Guidelines and designed for FDA 21 CFR Part 11, EU Annex 11 compliance.
- 4 standard control architectures from stand alone to full virtualization.