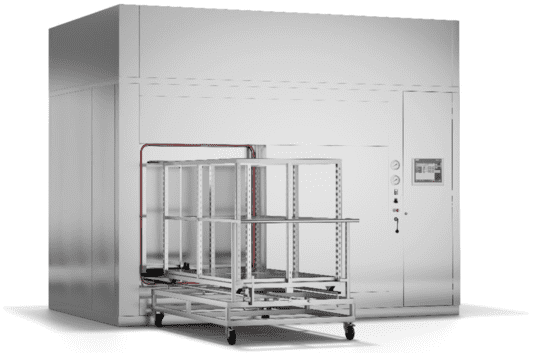 Pharma Grade Saturated Steam Sterilizers

Réf : AV Series

|

Fabricant : Steelco

Steelco AV Series Pharmaceutical Grade Saturated Steam Sterilizer are a fundamental part of the process used to render an object free from viable infectious agents including viruses and bacterial spores.

Used to sterilize with clean/pure saturated steam materials such as:
-Vials, bottles and glass items,
-Fabric materials,
-Sealed or vented containers,
-Stoppers and rubber parts,
-Machine parts and filters, etc.
Características principales
- From 195 litres / 7 cu ftto
- To 10.000 litres / 353 cu ft
- Available in several chamber sizes, configurations and accessories to tailor each unit to exact requirements.
- Complete layout versatility (left, right or shared technical area / piy or flour mounted)
Especificaciones
- Door seal is achieved by a pneumatically pressurized silicone gasket; ensuring the integrity of the door in any phase of operation. Door seal system guaranteed for 4 years operational use without lubrication.
- All piping and ports in contact with the chamber are made of AISI 316L, are sloped and self draining. All components are of sanitary type where appropriate, including clamp fittings.
- The sterilizing chamber entirely made in AISI 316L stainless steel is covered by a full jacket system of dimple welded type for fast heat transfer and to optimize chamber temperature distribution.
- Single or twin air filters installed in parallel, capable of being sterilized in place.
- Air detector following EN 285 to detect the presence of air or non-condensable gases within pure steam.
- The front loading side is fitted with connection ports for validation testing.
- Air differential seal or bio-seal barrier solutions available as option.
- Optimised for energy savings & low wastage. Drain cooling system available to cool down all effluents prior to discharge into drains.
- User friendly control systems for SIEMENS / ALLEN - BRADLEY developed according to the latest ISPE GAMP© Guidelines and designed for FDA 21 CFR Part 11, EU Annex 11 compliance.
- Wide range of loading handling solutions: Internal rack and trolley full or partial chamber depth made in AISI 316L. External transfer trolley with two fixed wheels and two swivel wheels made in AISI 304.
- 4 standard control architectures from stand alone to full virtualization.