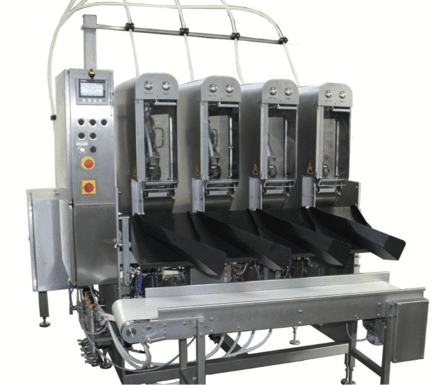 Bag Filling and Sealing

Réf : BFM 007 | Modular

|

Fabricant : Plümat

The modular semi automatic liquid filler, is suitable to fill and seal tube bags. The modular construction offers a high level of flexibility. Up to four modules can be integrated into the machine standard frame. The system can be matched to market requirements quickly and without complication. It is suitable for all liquid applications and standard sealing systems.
Características principales
BFM 007 with one or two operators 
| | | | | |
| --- | --- | --- | --- | --- |
| OUTPUT | 1 operator | 1 operator | 2 operators | 2 operators |
|   | BFM 007-1 | BFM 007-2 | BFM 007-3 | BFM 007-4 |
|   | bph | bph | bph | bph |
| 500 ml | 570 | 1020 | 1530 | 2050 |
|   |   |   |   | Further modules on request |
Container Infusion Bags
Formats** 50 ml up to 5000 ml
* All output data are based on experienced data
**steplessly adjustable
Especificaciones
| | | | | |
| --- | --- | --- | --- | --- |
|   | BFM 007-1 | BFM 007-2 | BFM 007-3 | BFM 007-4 |
| Power supply | 230V,50Hz;appr.1,8kW | 230V,50Hz;appr.1,8kW | 230V,50Hz;appr.1,8kW | 230V,50Hz;appr.1,8kW |
| Power consumption | appr. 0,5 kWh | appr. 0,5 kWh | appr. 0,5 kWh | appr. 0,5 kWh |
| Compressed air consumption | appr. 210 Nl/min | appr. 230 Nl/min | appr. 250 Nl/min | appr. 250 Nl/min |
| Machine weight | appr. 510 kg | appr. 590 kg | appr. 670 kg | appr. 750 kg |
| Dimensions (LxWxH) | 892 (2970*)x1513(3000*)x 1660(2790*)mm | 892 (2970*)x1513(3000*)x 1660(2790*)mm | 892 (2970*)x1513(3000*)x 1660(2790*)mm | 892 (2970*)x1513(3000*)x 1660(2790*)mm |