P

VC and EVA bags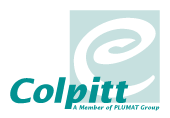 Since 2011, the Dutch manufacturer COLPITT, created in 1946, has integrated the PLÜMAT group, and therefore is represented by give & tech in France, Belgium and Spain.
The RF welding technology now completes the machines range offered by PLÜMAT, especially on the infusion, dialysis and blood markets.
Today, COLPITT machines are manufactured in Germany, according to PLÜMAT's quality standards.