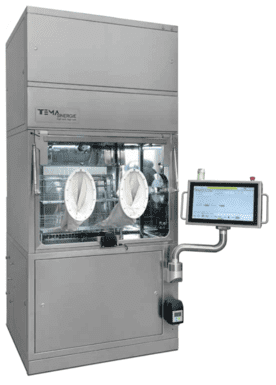 Material Transfer Isolator System

Réf : MT-IS

|

Fabricant : Tema Sinergie

The MT-IS is a safe and large hatch with integrated VPHP technology for the fastest bio-decontamination transfer process.
The stainless steel design is suitable for different cleanroom classifications.
- The MT-IS assures the highest air quality of the isolated environment thanks to:
- an engineered filtration system composed by High-Efficiency Particulate Air (H14) flow and exhaust filters;
- HYPER, Tema Sinergie's integrated Vapour Phase Hydrogen Peroxide (VPHP) biodecontamination system for very fast bio-decon cycle;
- inflatable seal made of FDA-approved White Silicon.


Principales caractéristiques
- Fastest bio-decon cycle time available on the market: full aeration time in less than 60 minutes (VPHP concentration ≤ 1ppm)
- Integrated VPHP technology
- Processes validated with Geobacillus stearothermophilus biological indicators to routinely achieve 6-log sporicidal reduction
- 100% expulsion air flow ventilation system for a better bio-decontamination
- Automatic leak testing before each decontamination cycle for maximum safety
- Sealed door with FDA approved inflatable seal and interlock system for minimized risk of bioburden and contamination
- Shelving system made of SS 316L to store products, materials and tools
- Integrated RTP system to transfer products and tools without breaking the aseptic containment
Spécifications
- Main shell structure made of high-grade AISI 316L stainless steel
- Sheathings and support structure made of AISI 304 stainless steel
- Mirror Brite internal finishing (<0,3 μm), and Scotch Brite external finishing (<0,8 μm)
- Weldings ground, smoothed and polished
- SIMATIC IPC277E Nanopanel PC 12" Touch Panel with TFT colour widescreen display
- PLC Siemens S7-1500
- 21 CFR part 11 compliant
- GAMP 5 compliant software development
- UPS for PLC reliability
- VPN connection for a secure and private communication via Internet network –remote access and assistance, updates, maintenance and training
- Integrated SCADA – iFIX with Historian DMS available upon customer request as option
- Tema Sinergie Data Management System (DataWall) available upon customer request as option