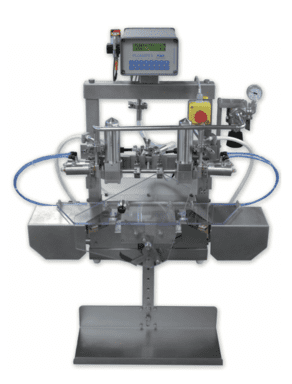 Semiautomatic Bag Filling and Sealing Machine

Réf : PLÜMATEX-F 014 BFH

|

Fabricant : Plümat

The PLÜMATEX-F 014 BFH is a table top bag filling and sealing machine with one or two filling nozzles. A foot pedal operation initiates the filling and the following sealing cycle.
The tube welding is performed by high frequency welding.
Principales caractéristiques
Output 250 | 500 Bags/h (one | two filling positions; 250 ml)
Container PVC or EVA bags
Formats* 10 ml up to 5000 ml
*steplessly adjustable
Spécifications
| | | |
| --- | --- | --- |
|   | PLÜMATEX-F 014-1 BFH | PLÜMATEX-F 014-2 BFH |
| Power supply | 230 V, 50 Hz; appr. 0,5 kW | 230 V, 50 Hz; appr. 0,5 kW |
| Consumption power | appr. 0,5 kWh | appr. 0,5 kWh |
| Compressed air | 6 bar (dry and free of oil) | 6 bar (dry and free of oil) |
| Consumption | appr. 5 NL/min | appr. 10 NL/min |
| Filling system | turbine / massflow (optional) | turbine / massflow (optional) |
| Product connection | tri-clamp | tri-clamp |
| Machine weight | appr. 100 kg | appr. 110 kg |
| Dimensions (L x W x H) | appr. 900 x 830 x 860 mm | appr. 900 x 870 x 860 mm |
| Materials | All product contact parts are made from stainless steel 1.4404/1.4571 | All product contact parts are made from stainless steel 1.4404/1.4571 |